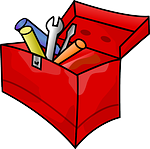 Top 10 Tools for Your DIY Toolbox.  A lot of times people ask us "What are the most important tools that I should have in my home toolbox?" There is such a wide range of options at the home improvement stores, that sometimes, if you are just starting out, or maybe you have just purchased your first home, it can be overwhelming.  So, we have put together this list of the top 10 tools everyone should have in their DIY home toolbox.  
If you have these, you are on your way to being able to maintain your home AND complete plenty of DIY projects. Here we go, in alphabetical order:
25′ Retractable Tape Measure.  Be sure you get the 25′ length, and you will be glad you did!
Adjustable Wrench.  This versatile tool serves many purposes, including the fact that it can substitute for a ratchet and socket set, if you don't have one.

Circular Saw

. You will need a saw, and there are many types.  But if you are only going to have one power saw, make it a circular saw.
Claw Hammer.  A hammer is a must, and the best weight is 16 oz.  Be sure to pick one that feels comfortable in your hand.

Cordless Drill/Driver Kit

. You can have a corded or a cordless drill, but if you are only going to purchase one, make it a cordless, because it is much more versatile…you can take it anywhere!

Locking Pliers.

A good pair of locking pliers can take the place of hands at times, and they have an abundance of uses.

Screwdrivers. You will need both Phillips and flathead screwdrivers.  They have multiple uses.
Speed Square.  A speed square is compact and easy to handle.  Great for both squaring up lumber and determining angles.
Torpedo Level.  It's compact and so is great for many household uses, such as hanging a picture or leveling a dishwasher.
Utility Knife.  Performs many cutting tasks neatly and accurately.  This is a must-have.
Now you are on your way to being a fully-equipped do-it-yourselfer with a well-stocked toolbox!
By See Jane Drill, Copyright 2016, All Rights Reserved