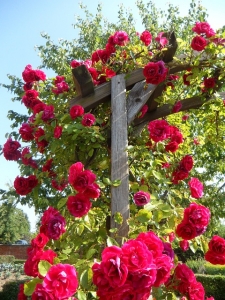 March 26, 2015 Best Lawn Art Ideas
Lawn art does not have to be limited to pink flamingos or garden gnomes. The right piece could add a little snap and personality to a yard begging for a little attention.
You can help a yard out by giving it a boost of curb appeal with the right artistic item. You don't need to commission a metal sculptor or spend a ton of money to get your yard looking dapper and noticed. There are many great inexpensive ideas and products available for spring positioning. Here are a few simple suggestions:
Garden Arch: Set astride walkways or paths with trailing plants like wisteria, trumpet vine, or climbing roses woven between lattice, garden arches can provide an otherwise drab walkway with a huge splash of color.
An old bicycle with a handlebar basket filled with annuals, or a wooden bench with wicker baskets parked atop and brimming with ivy can add a sophisticated display of interest to any yard.
Butterfly baths are not only an inexpensive way to distinguish and dress up a yard, but there is the added benefit of inviting butterflies.
Many garden yards offer a variety of concrete cast statues, from whimsical garden fairies to meditating buddhas, and many are modestly priced.
Adirondack chairs don't have to be plain jane seating. Hand-painted with eye catching designs, such as zebra stripes, or with bright colors, they can be decorative as well as functional.  And the job of painting a chair can easily been done in an afternoon.
by See Jane Drill, Copyright 2015, All Rights Reserved