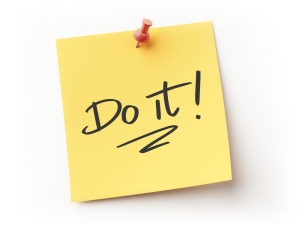 Sometimes the most effective solutions are also the simplest.  Getting maximum impact for minimal effort is a general rule I like to follow when taking on tasks around the house.   My " honey-do" list has become an "I-can-do" list, because it is so satisfying to be able to take care of the little issues around my own home.  You would be surprised at how easy and simple certain fixes are, including some of the peskiest little problems that everyone who lives in a home older than 10 years has probably encountered from time to time.  Here I offer to you my "Top 5 Countdown" of fixes that you can accomplish in literally 15 minutes or less, and with minimal skills.  You can do this!
Fix #5 – Repair Small Hole in Wall
Troubled by holes in your drywall walls?  Here is a simple fix, and I do mean simple, that will literally take you less than 5 minutes to accomplish!!  You have to see it to believe it…Click Here to watch our how-to video:  Repair a Small Hole in a Wall
Fix #4 – Hair clogs in the Bathroom Drain
Do you have long hair or live with someone who does? Or maybe you have kids who brush their hair over the sink and then just wash the stray hairs down the drain.  You are probably no stranger to those nasty hair clogs that most of us get from time to time.  Well, there is an easy fix that you may not know about, and it's called a Zip-It Drain Cleaning Tool
.  This handy and inexpensive plastic tool is available from most home improvement stores, and it takes just a couple of minutes to clear any drain where the clog is above the P-trap.  Please try it first before you spend a lot of money on a plumber…you will be glad you did!  Video on Unclogging Bathroom Drains with a Zip-it.
Fix #3 – Toilet Seat Replacement
Okay, so it isn't the most glamorous or exciting fix, but honestly,  it might be time for a new toilet seat if you can see the wood showing through, or if you can't tighten the bolts anymore.  I promise you, this will take 10 minutes, tops, and cost you around $10.  It doesn't get any easier than that!  Link to Toilet Seat Replacement Video
Fix #2 – Hanging Stuff on Walls
Well, I don't know about you, but in the past, I spent a lot of time hoping that someone else would hang up heavy stuff on my walls…not pictures, which I could manage, but stuff like shelves and coat racks.  Or what about if you have small children and need to attach heavy furniture to your walls, so that they don't pull it down?  There is a beautiful little piece of hardware out there, and it is called a Toggle Bolt. It can hold a lot of weight.  Watch this video to learn how to use a toggle bolt, and you will immediately want to run out and get some and hang up your own stuff! 
Fix #1 – Shower Diverter Replacement (My personal favorite of the fixes, which is why it is #1!)
Who hasn't lived with a shower with a broken shower tub diverter…where the water still pours out of the spigot while you are showering, and you have low water pressure coming out of the shower head?  This annoying problem has plagued me since I was child growing up in my parents' house, which was built in 1900, and it felt like the plumbing there was that old as well!  Well, now I know that it is simple, easy fix…seriously, no plumber required!!  And if I can do it, you can do it!  Click Here to Learn How!
Get on that "I-can-do" list, make your own fixes around your house, and you will not only enjoy living there more, you will have the satisfaction of knowing you did it yourself!
by Karen DeVenaro
See Jane Drill