November 16, 2015
How to Do a Skip Trowel Texture.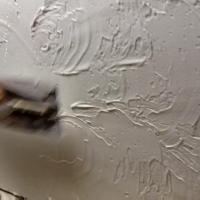 Watch this video to learn how to do a skip trowel texture on a wall or ceiling.  Also known as a "mud trowel knockdown", "Santa Fe", or "Spanish Knockdown", the skip trowel texture is one of the simplest and easiest to achieve, because the pattern is random. This means you don't have to be especially precise to achieve a beautiful texture.
This is also a great texture to use to conceal flaws in the surface of the wall or ceiling, or to conceal exposed drywall tape. 
We show you:
The tools you need to do the job

How to select the right joint compound (mud) for the texturing

How to achieve different degrees of texture, from very light to very heavy and pronounced
You can do this!
by See Jane Drill, Copyright 2014, All Rights Reserved