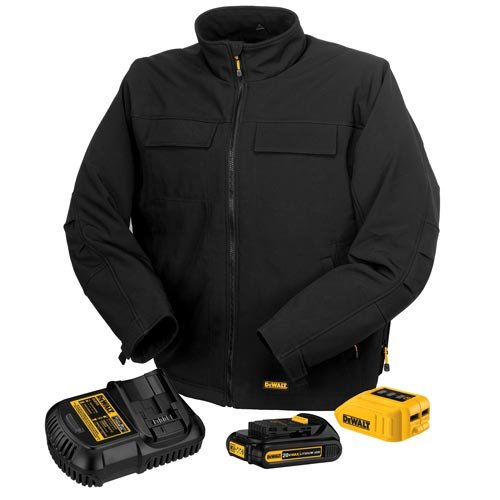 A Tool You Wear…The Heated Jacket!
It is so brilliant that we seriously wish we had invented it…a jacket that is battery-powered to keep you warm and protected from the elements for hours!
Made by tool manufacturers and intended as work jackets, these are jackets that you just plug in and power up, just like any other battery-powered tool that you would keep in your garage or workshop.
The beauty of these jackets is that they are not only a great help to those who work in construction outdoors, but would also be a wonderful gift for anyone who spends a lot of time in a cold environment, and needs protection from the elements. 
One such model is the DeWalt Max Black Heated Jacket. This jacket offers up to 7.5 hours of heat when the jacket is set on the lowest setting. It  has 4 heating zones: the left and right areas of the chest, the middle of the back, and the collar. All are operated by an LED controller that has a high, medium and low setting, plus a pre-heating function as well. The battery is located and hidden from view in a special battery pocket. In addition, there are also routing ports for a USB cable to reach from the battery pocket to the inner left chest, so you can use it to charge your cell phone as well!
So if you are looking for a tool to help you stay warm this winter while working outdoors or playing outdoors, you may want to forget about a portable propane heater and opt for a heated jacket instead.
by See Jane Drill, Copyright 2017. All Rights Reserved