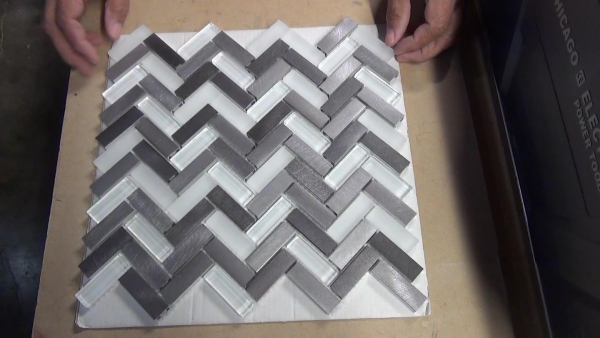 How to Cut Mosaic Tile Made of Metal and Glass
Mosaic tile is a very popular material right now for back splashes in kitchens and bathrooms. For one thing, it is super easy to install. You simply apply it to a tile setting mat, and then you can grout it right away.  
The tricky part comes when you need to cut mosaic tile that is on the end of a row, or along the bottom, to fit your space. This is particularly true if the tile contains materials such as metal or glass (or in our case, we have both!) Mixed materials such as these can be hazardous if you don't cut them correctly, because all that is holding them together is a mat and some glue.
So, the best technique for safely cutting mosaic tile of this type is to remove the individual tiles from the glue mat for the area that needs to be cut, and cut each piece separately.  You can cut the metal tile pieces with a hack saw.  And you can cut the glass tile pieces with a manual tile cutter.
 Watch this video, and Leah will show you how it's done.  
You can do this!
by See Jane Drill, Copyright 2017, All Rights Reserved