November 27, 2016
Five Rustic Home Decor Ideas You Can Do Yourself
Contributed by Olivia Gillmore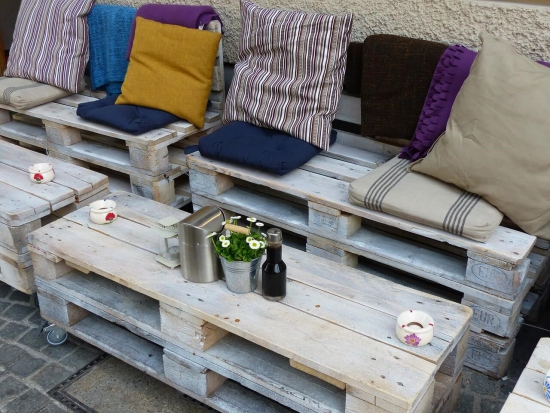 If you have a passion for decorating your house with your own two hands, you can't go wrong with rustic home décor. After all, it was meant to be DIY, and that's what gives it its unique look.
1.      Rustic Pallet Coffee Table and Shelves
Pallets are a great choice for any DIY home décor project. You can buy them cheap or even find them for free, and the possibilities are endless. To make a coffee table, you don't even need to know a lot about woodworking. All you need to do is remove the bottom planks of wood and place in the gaps on top. Top it all off with a dark lacquer. You can use sandpaper to give it that distressed, retro look and add another layer of clear lacquer on top. To make a shelf, turn the pallet on its side and remove planks from the front and back until you have one plank in the front and one or two in the back. It's just that easy.
2.      Balsa Wood Head Mounts
Balsa wood is perfect for small decorative objects. It's a very soft wood that's incredibly pliable, which makes it easy to bend and shape it. Balsa wood is ideal for making decorative head mounts. There are many shapes you can choose, from a simple oval shape to the classic crest. You can use it to mount photos or make papier-mâché animal head trophies for an updated take on the hunting lodge look. You can also use balsa wood mounts to make clothes racks, simply by attaching a small wooden peg on the middle of the mount.
3.      Rope Hanging Shelves
A very simple way to create more storage space and decorate your home is to make hanging shelves. You'll need to know the basics of woodworking. Drill two holes on either side of a plank of wood and pull a strong rope through the holes. You can string together several shelves by tying a knot at the bottom of each hole. Apart from the fact that these shelves have a rugged feel to them, they're also easy to mount just about anywhere. You can move them around until you find the perfect spot. You can also extend the number of shelves simply by untying the knots and fitting more planks.
4.      Rope Candle Holders
You can upcycle old bottles and jars just by using a heavy-duty string. String used to tie up boxes and packages works best since it already has a certain rustic feel to it. Use a strong gluing paste to cover the bottle or jar in sections and just wind up the string around it. If you don't like the string as easy or simply want to add a touch of color to your room, you can paint over it with fabric paint. Leave it messy for that authentic rustic look. If you are using them as candle holders, you can leave a small area uncovered at the top, so it's easier to clean the wax. You can use these bottles or jars as vases as well.
5.      Crate Bookcase
Crate bookcases are incredibly easy to make. It's another great way for aspiring woodworkers to get started. All you need are some wood crates a couple of nails and the right hammer for the job. The crates don't have to all the same size. You can mount them on the wall like a jigsaw to create different patterns. If you remove the back of the crates, you can add a thin plank of wood to the front of the crate, at the bottom, and your bookshelf just became a spice rack.
These ideas are just a few of the things you can do to create your own rustic home decorations. What made rustic home décor so popular was the simple yet surprising ingenuity of the craftsmen. Once you've got the basics down, you should experiment to your heart's content.
Olivia Gillmore is a professional DIY and crafts blogger from California. Olivia loves to craft, decorate and sew. She writes for http://diyexperience.com original articles related to the DIY industry. Olivia graduated from Art Center College of Design.