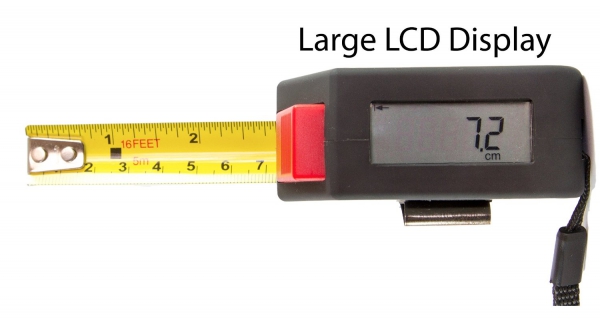 May 6, 2016  Friday Find: A Tape Measure that Reads Itself
Handy Mate has delivered a tape measure that actually reads itself.  Just stretch it out make your measurement, and an accurate reading appears across the display screen.  It's that simple!  Just push a button to change the format of the measurement from a fraction to a decimal, or to go from U.S. Standard measurement to the metric system.
The Handy Mate tape measure is a great tool for those who want an instant, accurate measurement. Personally, I think it is a fun tool for doing DIY projects with young children, who don't need to be able to read a tape measure, but can easily work with the Handy Mate.  
It also works well for those who need to make multiple measurements on a project,  and want to save time by not having to read a manual tape measure. An added feature is that the Handy Mate stores up to 8 measurements at a time.
I think the Handy Mate tape measure also makes a great gift for the budding DIY-er, as well as a unique housewarming present for the new homeowner. It is not only sturdy and accurate, but is also simply fun to use!
by Karen DeVenaro, See Jane Drill
Copyright 2016, All Rights Reserved