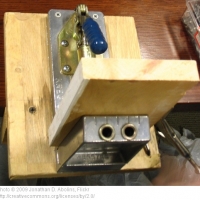 January 14, 2014
Pocket-Hole Jig:  What it is and Its Uses
A pocket-hole jig is a tool used in a technique called "pocket-hole joinery".  Pocket-hole joinery (also called "pocket-screw joinery") is a woodworking technique in which a hole is drilled at an angle into one piece, typically at a 15-degree angle, and then attached to a second piece of wood with a self-tapping screw. Like doweling, pocket-hole joinery and the use of a pocket-hole jig has its roots in ancient Egypt. 1
Modern-day pocket-hole jigs have been used by woodworkers for many years.  The company Kreg introduced a simplified line of pocket jigs, beginning in 1986, that is still among the most popular brands of pocket-hole jigs today, for use by woodworkers, DIY-er's and hobbyists.
DIY Home Workshop Uses:  The pocket-hole jig is not an essential tool to have, but it is certainly a great tool to have in your home workshop!  It can be used in an infinite number of woodworking projects, and is not only a huge time-saver, but also produces a very secure bond between two pieces of wood that you can rely upon for stability.  Some of the applications of the tool include attaching wood at angles, corners, beveled edges, and rounded edges.  The pocket-hole jig is useful for building frames, cabinets, wood stairs, and window frames, just to name a few potential applications for home woodworkers.
Buying Tips:  The Kreg jig is a superb type, however, it is on the expensive side, with joinery kits starting at about $90.  Less expensive brands and models of pocket-hole jigs are available, so, if you are just starting out with woodworking and DIY projects, you may want to consider purchasing a cheaper model at first.
Other names:  Pocket Jig, Pocket-screw jig
1  Pocket-Hole Joinery, Wikipedia
by See Jane Drill, Copyright 2015, All Rights Reserved