September 14, 2015
How to Remove a Ferrule from a Copper Pipe in Seconds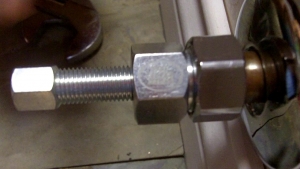 Watch this video to learn how to remove a ferrule from a copper plumbing pipe.  Usually this needs to be done when you are replacing a water supply valve. Generally it makes sense to remove and replace the ferrule at the same time that you are replacing the valve.
In many cases, the ferrule can be removed by hand, but other times, if the ferrule gets stuck on the pipe, you will need to use a tool to remove and replace it.
In this video, Leah demonstrates how to use a ferrule puller (also called a sleeve puller) that was specially designed by Dick English of the English Tool Company.  Check it out!
by See Jane Drill, Copyright 2015, All Rights Reserved
Related Video: