November 16, 2016
New Trend: Transitional Color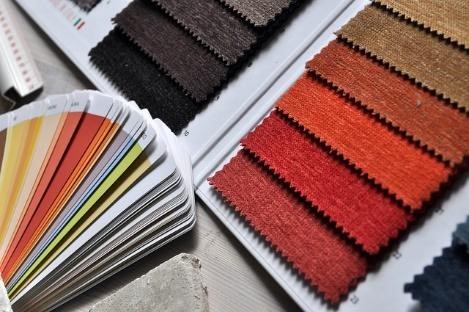 If you're wondering what's the hottest trend in decorating today, the answer is a simple word: transitional. Defining this trending style is not quite as easy, however. A transitional décor is one that blends your current furniture, whether contemporary or traditional, with fabrics and accessories into a new look that is rapidly becoming timeless. With this style, there's no need for a complete overhaul of your existing home structure, which saves you money in these challenging economic times.
A mixing of styles is the basis for a transitional design. With this scheme, you're allowed to abandon everything you know, or don't know, about home decorating. In its place, you're free to discover a flexible new approach to sprucing up your home. At the bedrock of this design fashion is the color palette you choose.
Generic Transitional Color Palette
Most designers will tell you that a transitional color palette is one that leans heavily toward the softer and subtler shades of all colors. A transitional palette may swing toward a lack of color in an effort to project a clean, serene atmosphere. In such a space, splashes of dark brown, for instance, may be used to add depth to balance the neutrals of taupe, tan, and vanilla.
A modern transitional style won't sit so well if you're a color junkie. Regardless of your end goal, with the transitional color palette the warm neutrals rule. Cream, taupe, and tan share the generic palette with khaki and gray. Occasionally a hint of chocolate or a touch of espresso brown may be thrown in for good measure. If any patterns are used, they should be understated; leave the geometrics in the closet for this one. Likewise, store away the punchy florals and the dynamic prints.
The Color of Life
For those who can't live without an infusion of color here and there, it needs to be kept to a few strategic accents. Some common approaches are bright colors from a favored piece of artwork repeating in a pair of lamps or peeking out from throw pillows.
Transitional style has a hint of minimalism about it, and that is evident in the color palette of the style. The majority of the color in the room will rarely stray beyond the boundaries of neutral shades. Transitional color norms waver from warm white and faded tans to blots of coffee brown, deep charcoal, and elegant black.
This basic tenet of the style doesn't mean you can't incorporate your color of choice. What is suggested is that these interjections of color should be the exception rather than the rule. Concentrate on throw pillows and small works of art rather than upholstery and floor coverings.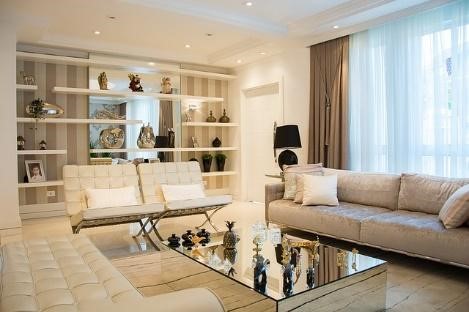 Putting Transitional Color into Action
With today's homes requiring an open floor plan in just about every market, the question often comes up as to how to transition a home from existing yellows and golds to cooler blues and grays. Transitioning from the strong warm tones to cooler tones, when boundaries between rooms are blurred, can seem like an overwhelming prospect.
Knowing exactly what a transitional color is and how to choose just the right one can help you make the transition from old to new throughout your house. The best general rule of thumb is to go with a transitional color that is a mixture of about 50/50 warm undertone to hint of cool color. You may also go with a 60/40 mixture if that seems more to your liking. Whatever your choice, you should avoid incorporating a strong cool gray or blue into the design. This shade has little warmth to it and therefore lacks enough of a balance to help make a smooth transitional room.
Spotting the Right Color
If you find yourself at the paint store looking for your transitional base color, look toward the colors on the verge of moving into the next color. For example, when searching through paint chips, look for the gray colors near to the green if your home is sporting warm yellows. The cooler shades of gray you'll want for your transition color will be here.
If your home is finished in a strong warm tan color throughout, and you want to transition to a color that incorporates a slight hint of blue, then look for dusty blue colors that remind you of rain.
Transition Through Accents
Some may look at a room colored in a transitional style and find it sorely lacking in color. It is this lack of color, however, that makes room for interesting textures. Rich textures that play off each other, such as an olive-colored corduroy combined with a smooth, creamy white cotton, can bring the pop to a transitional room that color junkies are missing. Other good fabric choices for a transitional room are pliable leathers, soft ultra-suedes, and a nubby chenille. All of these can be utilized in accent pillows, chair cushions, and ottoman covers.
Whether you're looking to transition a room inside your home or an outside patio space, accenting the area with some DIY pillow projects can be a fun way to bring your old look into your new. You can find fabric by the yard in every conceivable texture and color to make your own throw pillows or outdoor pillows.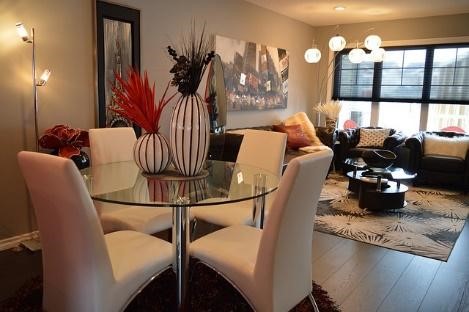 At the End of the Day
The ultimate goal of a transitional style is to update your home without breaking your bank. It is a melding of the old and the new, with clean and classic emerging from a blurring of the line between traditional and contemporary. The end result should be a relaxed, inviting atmosphere that features streamlined furnishings, a conspicuous absence of clutter, and minimal but effective accents. The overall feel should be both fresh and timeless. There should be simplicity but not austerity, warmth but no syrupy trappings.
Strip your furnishings down to their essence and remove any unnecessary embellishments. The strong lines will create a beautiful interplay between curves and straight lines. Keep your woods rich and textured. Make sure the metals are cool and polished.
If the transitional style is hitting the right notes for your home space, it isn't that hard to pull off. Remember that less is more in a transitional space, and focus on keeping the look clean and polished.
Contributed by Aby Arnold
Pillow Perfect www.pillowperfect.com