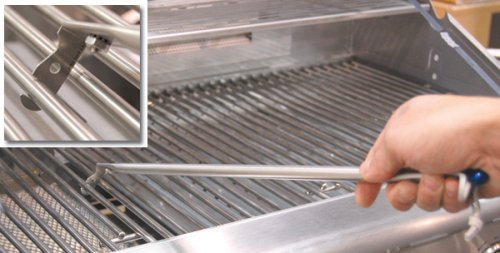 May 27, 2016  Friday Find: Grill Floss
Now one likes cleaning the BBQ grill, right?  But with this new tool, you just might start enjoying it more.  Grill Floss makes quick work of an otherwise messy and monotonous job.
How does it work?  Grill Floss wraps around each of the individual grill grate rods, so with a push and pull motion, you can clean all sides of the grates.  It has a nice long handle so that you can safely clean the grill while it is still hot.
Cleaning the grill can be the only unpleasant thing about barbecuing, but Grill Floss just might make it pleasant again!  
by See Jane Drill, Copyright 2016, All Rights Reserved