April 7, 2016
Use Amazing Curtains to Change Your Bedroom's Decor
Contributed by Edward Francis
Your windows are an exceptionally important part of your room. They are the source of light which warms the room, and makes it feel brighter and more alive, no matter what time of year it is.
Unfortunately, the window coverings are often left to last, and may even be added as an afterthought. In fact, the curtains can completely transform a room.  It is not just their color which is important, but also, the style and shape plays a big part as well.
It is often easier to pick the curtains and accessories first and then match the other items to these. There are several criteria which should be considered when choosing the right curtains: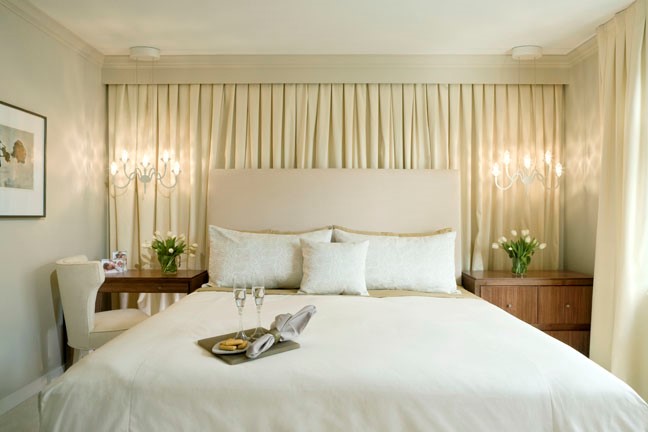 Different curtains for an extra hint of originality
It is acceptable and often better for every room to have its own curtains. This way you can ensure that the curtains match the room. It is highly unlikely that the same set will suit the décor in every room in your house!
Privacy comes first
There are some styles of window coverings which look fantastic, such as sheer drapes.  However, if you put these up in your bathroom or bedroom, you will have no privacy as it is possible to see straight through them. It is essential to think about each window and what the "outside looking in" view might be. Sheer drapes can be paired with a darker drape or different type of window covering if necessary.
Lighting
Every window is different. Its size and location, and even the glass type will affect the amount of light which is emitted into the room. A sheer drape will allow plenty of light and warmth through, but may not be suitable for a bedroom where you want the room to be relatively dark to allow you to sleep!
Most people like to have as much light as possible in the room during waking hours, and for this reason it is important to think about the right window covering. A curtain can be pinned to the side but is unlikely to let as much light through as a blind, which can be pulled up and expose the window completely. You will need to consider how important the light is in each room before choosing the coverings.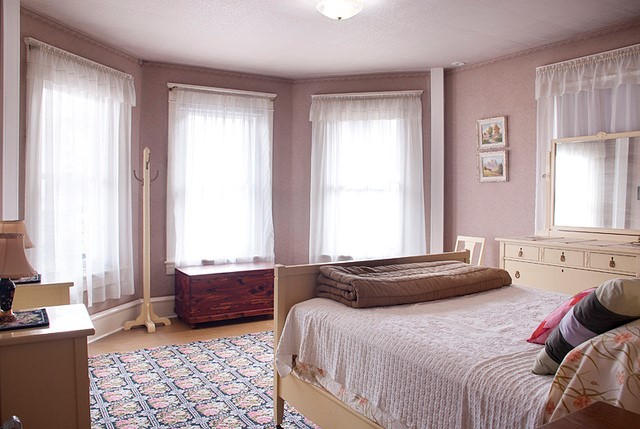 Choose the best material for your bedroom curtains
The material you choose for your bedroom's curtains serves several purposes. Thick material will block the light, but it will also help to keep the warmth in the house. Thinner curtains are more likely to let light through and warmth out, but they can look fantastic billowing in the wind! Most materials can embrace patterns but it is important that they display the right pattern for your needs. It is also essential that you choose the right fabric. Focus on quality. Anything which can fade in the sunlight will quickly look tired, and will need replacing. Silk is one of the fastest fading materials and should be avoided for use on windows.
Design
As mentioned above, curtains are part of the room, and they should reflect the design and the theme of the room. The color of the window covering can be tied into the color the room has been painted or accessorized. This is an important way of making sure the window coverings are part of the room, and not an added extra.
Make a smart investment – choose cost-efficient but quality coverings
Window coverings can be expensive, especially the thicker ones that are often essential for warmth and darkness in bedrooms. It is important to consider this when deciding on which curtains you wish to hang in your room. You will likely have a budget for decorating any room, and you probably do not wish to spend it all on your curtains.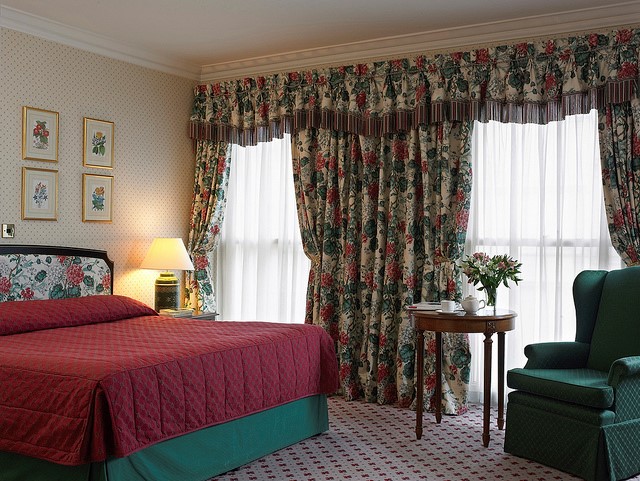 Height
Tall curtains can make a room look taller and more elegant, while shorter curtains will make the room feel smaller and cozier. You will need to consider which option suits your needs so that you can purchase the right curtains.
Regardless of your choice of model and color, the most important aspect when choosing bedroom curtains is the material. Make proper adjustments and transform your sleeping area into the most soothing and relaxing environment.
By Edward Francis and VanessaArbuthnott.co.uk!